Over the past several seasons, the Riveters have developed a total team approach to recruiting, training, planning, building and having fun. We're happy to share our processes with the FRC community.
BAD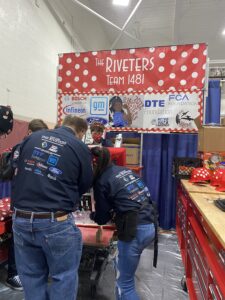 Business and Development (BAD), is in charge of soliciting, team branding, developing the business plan, and outreach. BAD develops everything from spirit wear to the team website.
This 2022 Season, the team won the Spirit Award thanks to efforts of the BAD team. Previously we have won the entrepreneurship award for our comprehensive and organized business plan ! We also hope to win the Engineering Inspiration Award in the future. For team imagery, BAD uses the iconic Rosie the Riveter as our source of inspiration. BAD strives to bring Rosie and her inspirational message to life through our emblematic uniform design, team logos, pit design, and website.
FAD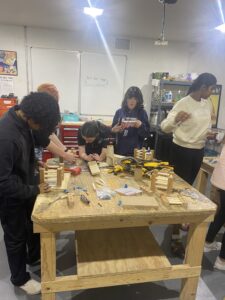 Fabrication, Assembly and Design (FAD) is composed of Mechanical and CAD students who work together to create the robot. The team Safety Captain and pit staff are also part of FAD, even though they may have roles in other subteams.
CAD generates full 3D renderings of all aspects of the robot in Autodesk Inventor. This gives the Mechanical group an understanding of what they need to fabricate. FAD's effort is valued and essential to creating a successful robot!
PEP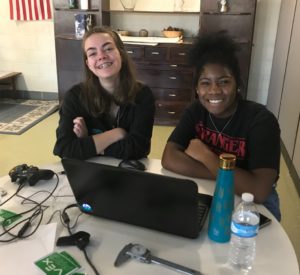 The PEP team is responsible for the Programming, Electronics, and Pneumatics systems of the robot. Each programmer is assigned to a function of the robot so that they can work with their code throughout the season and develop it. PEP team uses LabView to code, which is a graphics-based programming language.
PEP also designs and builds the electrical board and determines the sensors which will be needed for the robot. When pneumatics are used, the PEP subteams works to plumb, wire, and program that system as well.
SAD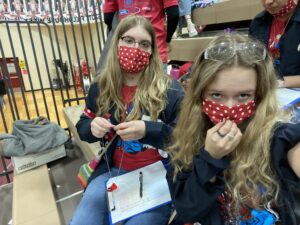 Scouting team exhausted from a long day of scouting!
Following kickoff the Strategy and Drive (SAD) subteam specializes in breaking down the game in order to provide the guidelines and requirements to build a multi-functioning productive robot. SAD communicates with FAD to assist in designing the most efficient high-performing robot for the year's specific game qualifications. During competitions, we select other teams who drive for matches and also scout and analyze match data in order to pick the best alliance to help us win the competition. The scouting team is an important part of SAD as during competitions they focus on analyzing opponents robots and determining who the best allies may for the later stages of the competition.