2020 Season – Infinite Recharge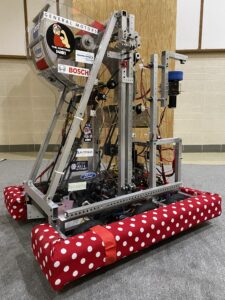 Meet R-81
Her sister R-14 was where all of the initial build and prototyping happened for Infinite Recharge's challenges. We transferred what we learned from R-14 to R-81 and had her ready for a Week 1 event at FIM Southfiled
FIM District Southfield Event Week 1 (Feb 27 – Feb 29)
With a qualifications record of 9-3-0 R-81 was ranked 3rd out of 38 teams. With the first alliance captain picking the second place team, The Riveters moved to captain of the second alliance.  With our first pick we chose Team 548, the Robostangs from Northville. Our second pick was Team 2591 the RedTails from Detroit. With the Robostangs' auton, strong shooting ability, and consistent climb and the RedTails' tenacious defense our alliance battled through to the finals. In the finals we met a powerful combination of Team 4130 the Blue Devils and their alliance partners Team 3538 the RoboJackets and Team 7191 the ABT Gators. We lost two straight matches in the finals and were very happy to call our alliance Finalists in the Week 1 Southfield District Event.
To add to the excitement of the competition for the first time in Riveters' history the team won the coveted Chairman's Award. Congratulations to the entire team and especially the Chairman's sub team. We are grateful the judges recognized the impact this team and all of it sponsors have had in encouraging women to pursue Engineering and STEM related studies in college.
Thank you parents, guardians, mentors, sponsors and our amazing alliance partners for the best start to a FIRST season The Riveters have ever had. We will continue to show young women that STEM careers are not only open to them, but desperately need their contributions.
FIM District Marysville Week 1 (Apr 2 – Apr 4)
We're working on some improvements to R-81. Stay tuned!
Michigan State Championship Week 7 (Apr 8 – Apr 11)
We are very fortunate to have qualified for the State Championship with the Chairman's Award in the Southfield event. Stay tuned!