Riveters Excel at FIM District Southfield Event
This weekend, the Riveters competed in our first FIM District Event at Southfield High School!  We performed well in our matches and advanced to the playoffs.  We also won recognition for our business plan and safety measures.
The Riveters ranked 15th out of 40 teams.  As we haven't even tested our elevator, this puts us in a great position moving forward!  The team advanced to the playoffs and played two well-fought matches.  We collected 27 District points toward our quest for the state tournament.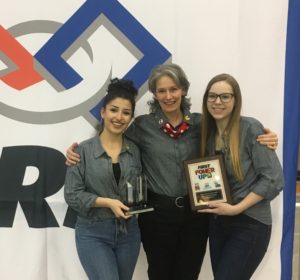 Thanks to the effort of our BAD (Business and Development) members, the Riveters were honored with the 2018 Entrepreneurship Award!  This award recognizes a team for developing a well-organized and comprehensive business plan.
We also won runner-up for the Industrial Safety Award!  Teams considered for this award take thoughtful precautions while building and using their robots.
Overall, the Riveters had a great experience at the Southfield competition.  We would like to thank the judges and volunteers who dedicated their time and effort to making this competition possible!